The Woodpecker Toothpick Dispenser
You know...for dispensing toothpicks.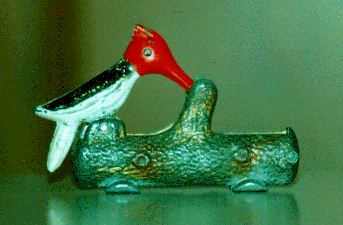 This is a charming toothpeck dispenser in the form of a woodpecker sitting on a log. When you push his head down, the beak reaches into the log and pulls out a tootpick.
I have one of these toothpick holders, but I don't know much about it. With the aid of another Internaut, I have been able to track down a few details.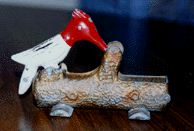 These toothpick holders seem to have been made in the 1940s and 1950s. The design was patented in 1947 by Charles Koenig of Dayton, Ohio. (Patent Number D-151773).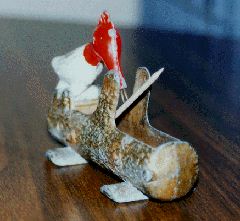 There are at least three versions available. The version in these pictures has a smaller head and less pronounced wings. There is also another, possibly earlier design that more closely resembles the drawings in the patent document (shown below). A third design is made of colored plastic. It lacks any real details of the bird's features.
The woodpecker toothpick holders are often available for auction on eBay, the online auction house. Recent prices there have been in the range of US $7.50 to $28.00, depending (presumably) on condition.
If you have further information about these toothpick holders, please send email to me at the address below.
Drawings from the patent document: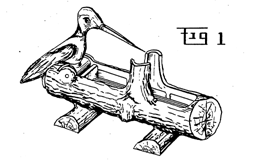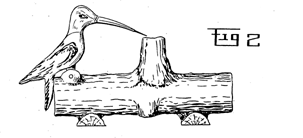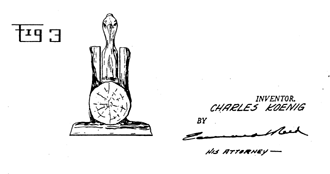 There's more info about the toothpick holder elsewhere on the 'net.